---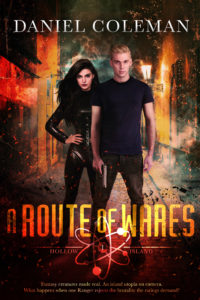 The Hollow Island Series is available NOW on Amazon.
Wizards, Ninjas, Vamps, Wares. For reality TV ratings, one Ranger may have to spill their blood.
Nash has always had an eye out for the little guy, just never with the genetically-engineered power he now wields as a Ranger. When he immigrates to Hollow Island, where his every move is broadcast to the masses, he witnesses shocking brutality both on and off the camera. And in this made-for-TV fantasy world, a peace-making character doesn't boost ratings.
Livi, a reclusive Vamp, chose violence and money over peace long ago. She vows to use every tool in her arsenal to lure enemies to their deaths as she rages against the memory of her sister's senseless death. But regardless of her advanced modifications, her reckless attitude could lead to getting dusted …
Can Nash break the island's cycle of slaughter and save Livi or will they both be dead before the next commercial?
A Route of Wares is the first book in the rapid-release Hollow Island urban fantasy series. If you like unique worlds, snarky humor, and vivid magical creations, then you'll love Daniel Coleman's action-packed novel.
Buy A Route of Wares to tune into a dangerous future today!
A Route of Wares is free for Kindle Unlimited subscribers. You can check out the first chapter here. 
---
Find the Knights of Wonderland Series exclusively on Amazon!