New year, new book! My next novel comes out in two weeks. It's a completely different genre, so I'm using a pen name.
Here are a few rejected pen names:
1 — Paige Turner
Get it? A possibility, but I wanted to publish as a man to stand out in a field ubiquitously female.
2 — Robert Galbraith
Worked for J.K. Rowling, right? Well it worked after someone "accidentally" "leaked" the name.
3 — Leinad Nameloc (or Leonard Namelock)
My name backward, but I didn't like the looks of it.
So here it is: Daniel Banner, writer of clean romance. The first book is Two Hearts Rescue: Park City Firefighter Romance
and is set in a fictional fire department in Park City, Utah. It comes out January 17. It's available for pre-order on Amazon now!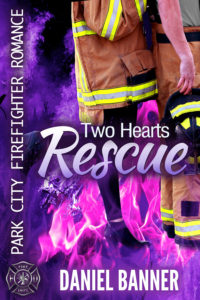 Two Hearts Rescue is one book in a series I've written with 3 bestselling authors: Christine Kersey, Taylor Hart, and Cami Checketts. Two of the books are out now:

To keep up on books by Daniel Banner, like the Facebook page or sign up for his newsletter here.
Cami Checketts' book, Rescued by Love, is coming out Feb 1.
Here's hoping it's a banner year for you and me!